Sterling Green Neighborhoods Property Damage
Know your rights as a property owner
Damage to your property is an emotional, expensive and devasting experience.
Over the past several years, homeowners in the Sterling Green neighborhoods in Channelview, Texas have experienced issues such as property flooding, erosion, and foundation damage after the construction of a nearby pipeline. Homes beyond the immediate pipeline easement may also be impacted by reduced property values.
Let us help you!
As a property owner, there are a variety of issues to tackle when damage to your property occurs. That's why it's important to have a legal team with experience in property damage rights on your side to make sure you are treated fairly and to obtain the maximum compensation you are due.
Contact us using the form below to learn more about your options in a free consultation or call our office at 832-667-7700.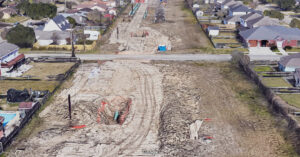 Upcoming Events
We will be hosting a series of local events that are designed to create a comfortable and informative forum for homeowners to share experiences, learn more about their property rights, and speak to a legal expert who can determine the best course of action for each unique situation.
Schedule a Free Consultation
832-667-7700
PMR Law Offices
3701 Kirby Dr. Ste. 530
Houston, Texas 77098